Volco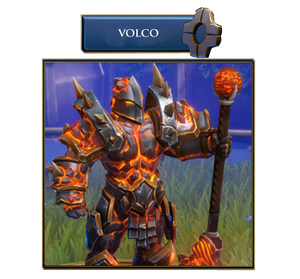 Volco is one of the Masters in Minion Masters. This master is unlocked with 1000 Shards or 525 Rubies.
Caption
[
edit
]
Volco is a former slave who wields the legendary Volcanic Hammer. It helped him break his chains, but the rage bubbling within the weapon has consumed him entirely and they have become almost as one.
Description
[
edit
]
Volco is not scared of swarms, but he hates flying enemies he can't reach.
Abilities
[
edit
]
Basic Attack
[
edit
]
Deals 40 area GROUND damage with his hammer every 2.5 sec. Has a range of 10.. Hammer Time! (DPS: 16)

Afterburner (Unlocks at 20 XP)
When Volco holds the Marked bridge and plays a card, he fires a firebolt at the enemy Master dealing 60 damage.

Burn The Bridges (Unlocks at 60 XP)
Add the card Burn The Bridges to Volcos deck.

Burns ground enemies on bridges.
Duration: 5 sec
Damage per sec: 40
Mana cost: 0

Tempers Flaring (Unlocks at 120 XP)
All friendly melee units have Rage!
Units affected:
Minions:
| Name | Mana | Count | Health | Range | Damage | Attack Speed | Attack Delay | DPS | Move Speed | Flying | Hits Flying | Only Buildings |
| --- | --- | --- | --- | --- | --- | --- | --- | --- | --- | --- | --- | --- |
| Squire Puff | 0 | 1 | 100 | 640 | 50 | 2,000 | 0 | 25.0 | 8 | No | No | Yes |
| Nether Bat | 1 | 1 | 30 | 400 | 20 | 1,100 | 600 | 18.18182 | 10 | Yes | Yes | No |
| Scrat Pack | 1 | 2 | 15 | 320 | 10 | 1,000 | 400 | 10.0 | 7 | No | No | No |
| Screaming Scrat | 1 | 1 | 90 | 400 | 0 | 1,000,000 | 1,000,000 | 0.0 | 7 | No | No | No |
| Propeller Scrats | 2 | 3 | 15 | 400 | 10 | 1,000 | 400 | 10.0 | 7 | Yes | Yes | No |
| Swarmers | 2 | 3 | 35 | 400 | 20 | 1,100 | 800 | 18.18182 | 10 | No | No | No |
| Zeppelin Bomber | 2 | 1 | 100 | 600 | 250 | 6,000 | 500 | 41.66667 | 7 | Yes | No | Yes |
| Ravenous Swarmers | 2 | 2 | 35 | 400 | 20 | 1,100 | 800 | 18.18182 | 10 | No | No | No |
| Elite Swarmer | 2 | 1 | 225 | 400 | 25 | 1,100 | 800 | 22.72727 | 7 | No | No | No |
| Scrat Horde | 3 | 10 | 15 | 320 | 10 | 1,000 | 400 | 10.0 | 7 | No | No | No |
| Warrior | 3 | 1 | 350 | 400 | 70 | 2,000 | 600 | 35.0 | 5 | No | No | No |
| Spirit Vessel | 3 | 1 | 250 | 400 | 40 | 1,100 | 600 | 36.36364 | 4 | No | No | No |
| Cursebearer | 3 | 1 | 300 | 560 | 50 | 2,000 | 600 | 25.0 | 4 | No | No | No |
| Dragon Whelp | 3 | 1 | 100 | 479 | 50 | 1,000 | 600 | 50.0 | 7 | Yes | Yes | No |
| Brutish Betrayer | 3 | 1 | 350 | 1,600 | 180 | 3,000 | 400 | 60.0 | 10 | No | No | Yes |
| Lost Leggionaires | 3 | 2 | 160 | 479 | 30 | 1,500 | 600 | 20.0 | 5 | No | No | No |
| Spear Throwers | 4 | 4 | 100 | 9,000 | 15 | 1,500 | 600 | 10.0 | 5 | No | Yes | No |
| Stun Lancers | 4 | 2 | 150 | 3,499 | 30 | 2,000 | 600 | 15.0 | 5 | No | No | No |
| Tranquil Shi-Hou | 4 | 1 | 420 | 1,499 | 60 | 1,600 | 800 | 37.5 | 5 | No | No | No |
| Whirly Scrat | 4 | 1 | 390 | 1,600 | 55 | 1,500 | 700 | 36.66667 | 5 | No | No | No |
| Propeller Horde | 4 | 6 | 15 | 400 | 10 | 1,000 | 400 | 10.0 | 7 | Yes | Yes | No |
| Musketeer | 4 | 1 | 230 | 1,499 | 65 | 1,000 | 433 | 65.0 | 5 | No | No | No |
| Ghost | 4 | 1 | 100 | 1,000 | 0 | 3,500 | 3,500 | 0.0 | 5 | Yes | Yes | No |
| Undying Skeleton | 4 | 1 | 300 | 560 | 50 | 2,000 | 600 | 25.0 | 4 | No | No | No |
| Morgrul the Swarmer King | 4 | 1 | 240 | 400 | 35 | 1,500 | 1,000 | 23.33333 | 7 | No | No | No |
| Rammer | 4 | 1 | 350 | 1,600 | 180 | 3,000 | 400 | 60.0 | 10 | No | No | Yes |
| Lone Wolf | 4 | 1 | 350 | 400 | 70 | 2,000 | 600 | 35.0 | 5 | No | No | No |
| Flightless Dragons | 4 | 3 | 100 | 600 | 50 | 1,000 | 600 | 50.0 | 5 | No | No | No |
| Prowler | 5 | 1 | 310 | 400 | 85 | 1,500 | 1,000 | 56.66667 | 7 | No | No | No |
| Scott The Sensitive Savage | 5 | 1 | 600 | 600 | 65 | 700 | 400 | 92.85714 | 6 | No | No | No |
| Scrat Tank | 5 | 1 | 700 | 400 | 60 | 2,000 | 700 | 30.0 | 4 | No | No | No |
| Living Statue | 5 | 1 | 1,200 | 2,500 | 140 | 3,000 | 1,500 | 46.66667 | 2 | No | No | Yes |
| Crystal Construct | 5 | 1 | 800 | 800 | 60 | 6,000 | 3,000 | 10.0 | 4 | No | No | No |
| Defenso Chopper | 5 | 1 | 450 | 2,000 | 50 | 2,800 | 600 | 17.85714 | 4 | No | No | No |
| Divine Warrior | 5 | 1 | 350 | 400 | 70 | 2,000 | 600 | 35.0 | 5 | No | No | No |
| Incubus | 5 | 1 | 300 | 400 | 60 | 1,000 | 600 | 60.0 | 5 | No | No | No |
| Legionnaires | 5 | 4 | 160 | 479 | 30 | 1,500 | 600 | 20.0 | 5 | No | No | No |
| Wolf Among Sheep | 6 | 4 | 160 | 479 | 30 | 1,500 | 600 | 20.0 | 5 | No | No | No |
| Demon Warrior | 6 | 1 | 450 | 1,000 | 100 | 2,500 | 1,400 | 40.0 | 4 | No | No | No |
| Rabid Prowler | 6 | 1 | 310 | 400 | 85 | 1,500 | 1,000 | 56.66667 | 7 | No | No | No |
| Guardian | 6 | 1 | 800 | 800 | 60 | 6,000 | 3,000 | 10.0 | 4 | No | No | No |
| Dragon Pack | 7 | 3 | 100 | 479 | 50 | 1,000 | 600 | 50.0 | 7 | Yes | Yes | No |
| Blue Golem | 7 | 1 | 800 | 1,500 | 200 | 2,000 | 1,000 | 100.0 | 2 | No | No | No |
| Troubadour | 8 | 1 | 1,700 | 1,499 | 300 | 5,000 | 600 | 60.0 | 2 | No | No | Yes |
| Commander Azali | 8 | 1 | 800 | 1,000 | 150 | 2,300 | 800 | 65.21739 | 3 | No | No | No |
| Red Golem | 9 | 1 | 800 | 1,500 | 200 | 2,000 | 1,000 | 100.0 | 2 | No | No | No |
| Colossus | 9 | 1 | 1,200 | 2,600 | 275 | 4,000 | 2,000 | 68.75 | 2 | No | No | No |
| Lord-Sentinel Thelec | 10 | 1 | 500 | 800 | 70 | 1,300 | 700 | 53.84615 | 4 | No | No | No |
Buildings:
| Name | Mana | Count | Health | Range | AOE Range | Damage | Attack Speed | Attack Delay | DPS | Move Speed | Flying | Hits Flying | Only Buildings |
| --- | --- | --- | --- | --- | --- | --- | --- | --- | --- | --- | --- | --- | --- |
| Grasping Thorns | 2 | 1 | 50 | 0 | | 4 | 200 | 400 | 20.0 | 0 | No | No | No |
| Grasping Thorns | 2 | 1 | 50 | 0 | | 4 | 200 | 400 | 20.0 | 0 | No | No | No |
History
[
edit
]
In Update 13 - Scratty Tech (13 Jan, 2017) Volco received the following changes:

Basic Attack:

Damage increased from 40 to 50
Attack speed reduced from 3s to 2.5s
Range increased from 8 to 10

Second perk(Burn The Bridges):

Damage per second increased from 20 to 40 (total damage increased from 100 to 200)

In Update 17 - Draft in the house! (17 Feb, 2017) Volco received the following changes:

Basic Attack:

Damage reduced from 50 to 40

Second perk(Burn The Bridges):

No longer hits flying minions

In Update 51 - Fire and Fury (8 Nov, 2017) Volco received the following changes:

First perk reworked:

Before: If Volco holds both bridges, fire a firebolt that deals 60 damage to a random enemy whenever Volco plays a card
Now: When Volco holds the Marked bridge and plays a card, he fires a firebolt at the enemy Master dealing 60 damage

Third perk:

Rage buff reduced from +100% damage to +50% damage

In Update 70 - Burning Spirits (27 Jun, 2018) Volco's second perk received the following changes:

Damage per tick reduced from 40 to 8
Tick rate increased from every second to every 0.2s
DPS, total duration and total damage remain unchanged